An attractive route to enjoy both the beautiful sea and mountains
Grand Northern Alps ・ Tateyama Kurobe Alpine Route is a travel route passes through 3 cities, 1 town and 2 villages; Itoigawa City and Joetsu city of Niigata Prefecture, Omachi city, Hakuba Village and Otari Village of Nagano Prefecture, and Asahi-machi of Toyama Prefecture. Through this route, you may learn the attractivenesses of both the mountains and the sea in one. Including Happo-One Ski Resort, there is number of high-quality ski resorts. Visitors can also enjoy mountain climbing and trekking during spring to autumn.
Furthermore, you can enjoy the beautiful shoreline of Japan Sea and fresh seafood while traveling along the symbolic castle town where has the Japan`s first Geopark by the submarine volcanic activity of Fossa Magna. Visitors can access by airplane or the world-wide popular Shinkansen between Tokyo or other big cities effectively. Besides, tourists may also choose to ride on a local train to enjoy the rural scenery leisurely, even more, to spend a night in a local farm house for an unprecedented country-life experience.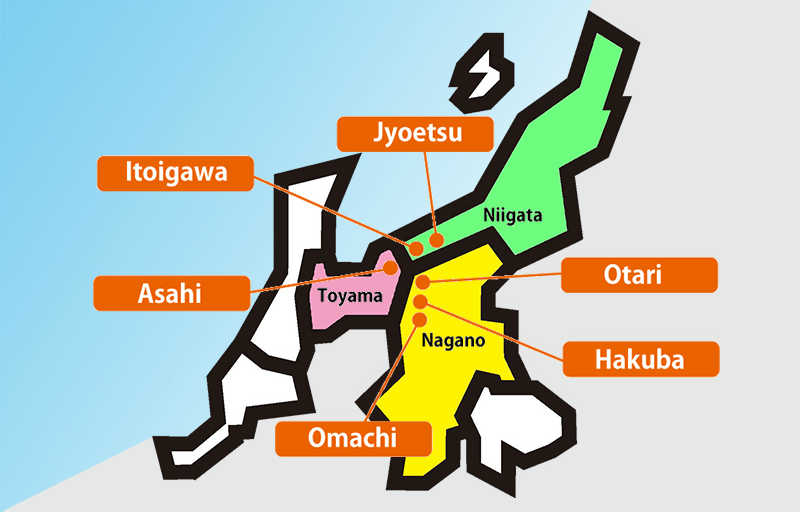 There are different kinds of accommodation available to choose from, according to your budgets and preferences.

Japanese and Western restaurants which are popular among the locals for fresh food and menu.


Facility guide for prayers: Prayer room
           


Sight-seeing spots and activities recommended by the local experts
Here is some introduction of places where we recommend the most among the area.
The 3000-meter Japan`s Northern Alps has been enchanting people through the years with its breathtaking scenery of lofty mountains.
Including Happo-One Ski Resort, the biggest ski resort in Japan, there is number of ski resorts with top class snow. Skiers from world-wide visit Hakuba for its reputation. Not only are the ski resorts, Hakuba is also a famous international mountain resort that tourists can enjoy different kinds of outdoor activities, mountain climbing, and hot spring.
Although Hakuba is surrounded by mountains, the distance between the sea is only an hour by car!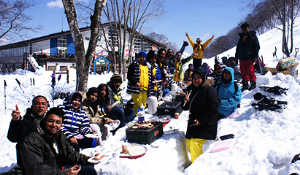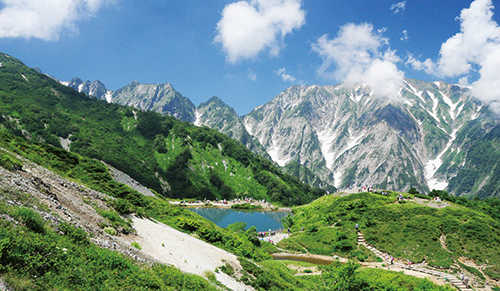 The charm of Hakuba is scenery every season. 
I would like to visit each seasons repeatedly.
Although the Hakuba Valley is most famous for its winter beauty, it has long been a beloved summer destination for both Japanese and overseas lovers of nature and traditional Japanese scenery. While the spring brings an end to the long winter, many of the Hakuba Valley's ski areas are still open through to the beginning of May. One can ski in the famed cherry blossom season, a rarity in Japan. Alpine plants and flowers begin to bloom, and summer invites the hikers and trekkers to the 3,000 meter mountain tops. There are many outdoor activities to pursue in the Northern Alps, and when autumn arrives, viewing the brilliant autumnal foliage from an outdoor hot spring may be considered the highlight of the year for some.